faqs & policies
general shipping policy
We're really proud of our little Citizens and we're sure you'll agree -- so in the continental USA, all bikes ship by Ground service for free. Accessories ordered with your folding bike also ship free.
Accessory orders without the purchase of a bike are charged shipping fees based on the size, weight and destination of the order.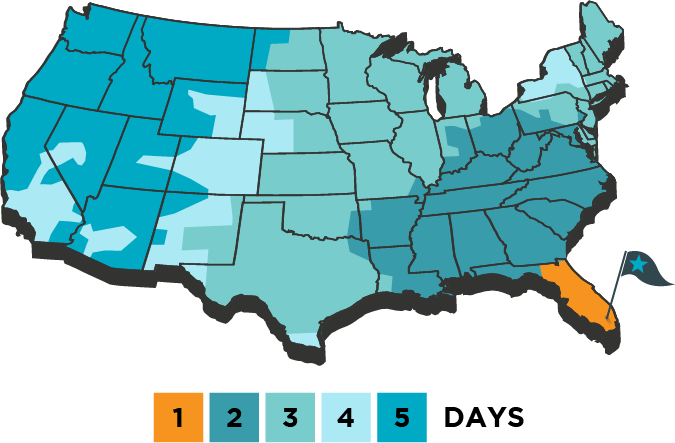 Depending on originating and desination locations, shipping will require between 2-8 days. If you ordered two or more items, you may receive them in multiple boxes on different days. We do not charge you extra shipping for split shipments.
Shipping to Alaska and Hawaii
We ship all items to all states, including Alaska and Hawaii. Shipments to Alaska and Hawaii require additional surcharges. Also, we ship our folding bikes and accessories by USPS Priority Mail service to Alaska and Hawaii. Please add items to the shopping cart to find out the most accurate shipping rates.
Shipping to Canada
We ship to Canada by FedEx International Economy service. Generally, this service takes between 5-8 days for delivery. The shipping fees do not include any duty, import tariff fees or sales taxes. These fees are the responsibility of the recipient and must be paid directly to the courier upon delivery.
shipping to a different address
During Checkout, you can specify a different shipping address than your billing address.
international shipping
We ship within the United States and Canada. At this time, we do not ship to additional international destinations.
required assembly upon arrival
Because we only offer our bikes direct, we're able to pass along all of the savings to you. But we're also able to do things differently. Unlike what you should expect from purchasing a bike online, we're quite the opposite. We're not slapping a label on a box and tossing it into a truck. Your bike is prepared to order, customized and packed for shipment, right here in the USA at Citizen HQ. We'll add and attach your accessories, tune it all up, and carefully pack your bike for safe travels to you.
Your bike is tuned and setup with the same level of care and attention you'd get from your local bike shop. Because we can pack the bikes folded and fully assembled, your bike will arrive to you ready to ride...and prepared with love.
using the shopping cart
When you see an item you'd like to purchase, simply click Add to Cart next to the item. That puts the item in your shopping cart and takes you to the Shopping Cart page, where you'll be able to view the items you've added to your cart. You can also change the quantity of each item you've selected or remove items, if you want. From your cart, you can either check out or continue to shop. You can return to the shopping cart by any time by clicking Your Cart on the page header.
sales tax
Sales tax is only applied to orders that are shipped to the State of Florida. Florida state sales tax is 6% (plus additional county surcharges where applicable). Shipping and handling charges are taxable in the State of Florida.

Orders placed in Florida are not subject to sales tax if the order is shipped outside of Florida.

The sales tax rate is subject to change at any time.
payment options
We accept the following major credit cards issued by U.S. or Canadian banks: Visa, MasterCard, American Express and Discover.

We're sorry, but at this time we do not accept cash, checks, money orders or credit cards issued by foreign (non-U.S. or Canadian) banks.
secure ordering
We use SSL to encrypt our web pages. SSL is the leading standard for encrypting and transmitting sensitive data over the web. When you see "https" rather than "http" in your browser's address window, you are exchanging encrypted data with our server. This will prevent outsiders from obtaining any credit card information or personal data as it is sent to our servers. This web site is secured using a GeoTrust Certificate.
order confirmations
Shortly after completion of placing your order, you will receive an email confirming that we have received your order. You will receive a second email when your order has shipped. Please save these email invoices for your records.

If you do not receive an email confirmation within 48hrs of placing your order, please contact us by phone at 1-800-682-9579 (Monday thru Friday, 10am to 4pm EST) or by email here.
returns policy
Returns require a return authorization number for processing. A return authorization number can be obtained by contacting us here. This return authorization number must be clearly marked on the outside of the package upon return. In order to offer our customers the lowest prices possible, we must have certain limits on our return policy in regards to shipping fees. Therefore, all shipping charges, outbound and return, are non-refundable. For items purchased with free-shipping, the return shipping cost is not covered. Returns must be sent at the customer's expense and can only be accepted within 30 days from the purchase date. For backorder items, returns are accepted within 30 days from the shipped date. There are no restocking fees for returned items.
contact information
If you have any questions, please feel free to contact us by phone at 1-800-682-9579 (Monday thru Friday, 10am to 4pm EST) or send us a message here.
warranty
Citizen Bike warrants the frame and fork of each new Citizen Bike brand bicycle to be free from defects in material and workmanship for a period of one (1) year from the date of purchase for the original purchaser only. All other original components and all Citizen Bike brand repair parts, replacement parts and accessories are warranted to be free from defects in material or workmanship for a period of sixty (60) days from the original date of purchase.

Limited Remedy

Unless otherwise provided, the sole remedy under the above warranty or any implied warranty is limited to the replacement of defective parts with those of equal or greater value at the sole discretion of Citizen Bike. You will be responsible for labor costs associated with warranty replacements. IN NO EVENT SHALL CITIZEN BIKE BE RESPONSIBLE FOR INCIDENTAL OR CONSEQUENTIAL DAMAGES, WHETHER BASED ON CONTRACT, WARRANTY, NEGLIGENCE, OR PRODUCT LIABILITY, OR ANY OTHER THEORY, INCLUDING, WITHOUT LIMITATION, PERSONAL INJURY DAMAGES, PROPERTY DAMAGE, OR ECONOMIC LOSSES.

Some states do not allow the exclusion or limitation of incidental or consequential damages, so the above limitation or exclusion may not apply to you.

EXCLUSIONS

THE ABOVE WARRANTY, OR ANY IMPLIED WARRANTY, DOES NOT COVER NORMAL WEAR AND TEAR, AND ALL WARRANTIES ARE VOID IF THE BICYCLE IS USED FOR OTHER THAN NORMAL ACTIVITIES. INCLUDING, BUT NOT LIMITED TO THE FAILURE TO FOLLOW THE OWNER'S MANUAL USING THE BICYCLE FOR COMMERCIAL ACTIVITIES OR IN COMPETITIVE EVENTS, INCLUDING BUT NOT LIMITED TO BICYCLE RACING, BICYCLE MOTORCROSS RACING, STUNT RIDING, RAMP JUMPING OR SIMILAR ACTIVITIES, AND TRAINING FOR SUCH ACTIVITIES OR EVENTS. CITIZEN BIKE MAKES NO OTHER WARRANTIES, EXPRESS OR IMPLIED. ALL IMPLIED WARRANTIES, INCLUDING THE WARRANTIES OF MERCHANTABILITY AND FITNESS FOR A PARTICULAR PURPOSE, ARE LIMITED IN DURATION TO THAT OF THE EXPRESS WARRANTIES STATED ABOVE.

Some states do not allow limitations on how long an implied warranty lasts, so the above limitation may not apply to you. This warranty gives you specific legal rights, and you may also have other rights which vary from state to state.